What is a herniated disc and how to relief it!
What are the symptoms to look for and the good habits to take to avoid a herniated disc?
Suffering from a herniated disc is not plesant. Indeed, the unpleasant sensation can radiate into the leg, but also lead to disabling consequences.
What is a herniated disc?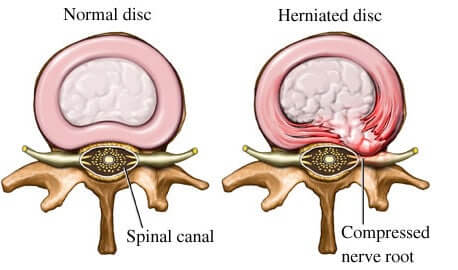 The spine consists of vertebrae interconnected by pads made of cartilage and gelatinous material. These pads are both shock absorbing and facilitating bending. The herniated disc appears when the pad dislodges (as a result of trauma or wear) and the gelatinous material is compressed between the vertebral discs. The pain is then linked to the pressure on one or more nerve roots located in the spine.
Herniated disc: symptoms
Sometimes the herniated disc causes no pain, it all depends on where the pad is applying pressure. However, here is a list of symptoms that may help you to detect a possible herniated disc (do not forget to consult a doctor if in doubt, these advice does not replace in any case the opinion of a health professional):
Pain in the lower back (low back pain);
Pain in the neck, shoulders or arms;
Amplified pain when the back muscles are stressed (by carrying a heavy load, coughing or sneezing, for example);
A feeling of tingling or even paralysis in some limbs;
A pain that radiates to the leg.
Good habits to prevent it!
The causes of a herniated disc are multiple, it is good to know them in order to be able to prevent it from happening. One of the most common causes of disc herniation is:
Overweight;
Pregnancy;
Regularly carrying heavy loads;
A shock, a fall;
Hereditary factors (some people have weakness in the vertebral area);
Age.
There are some good habits to take to avoid suffering from a herniated disc. The first thing to do is to try to maintain an optimal healthy weight, the overweight being the enemy of the back. You must also strengthen the muscles of your back so that they can relieve the pressure on your discs. Having a strong back also makes it possible to stand up straight and to adopt a good posture more easily (essential to fight the herniated disc).
Pregnant women and people accustomed to carrying heavy loads should anticipate back pain by seeking advice from their doctor. Lumbar belts can relieve the back and help spread the weight so that the vertebral discs do not get the full load.
On the equipment side, women who suffer from back pain and who recognize the symptoms of a herniated disc should limit as much as possible the wearing of high heels. In the same way, shoulder bags are not recommended for carrying heavy loads (laptop, briefcase, etc.); it is better to choose a backpack that will distribute the load on the shoulders and lower back.
Finally, opt for an orthopedic mattress and pillow to reduce the pain when waking up.
These few tips can help you reduce the pain, however, be aware that it is imperative to consult a doctor in chiropractic as soon as the first symptoms appear.
At Kiroclinique we can help you!
At Kiroclinique, Apart from chiropractic care, we offer other services related to alternative medicine that also can help in the releif of herniated disc symptoms.
We believe that a variety of treatments provide different relief and benefits. In addition, this gives the patient the opportunity to opt for therapeutic care according to his preferences.
Massage therapy and acupuncture are two natural approaches also available at Kiroclinique. These provide you with effective relief and complete relaxation. These are two practices that add up very well with chiropractic.
Want to take care of your health? Contact our chiropractic clinic now.
(514) 504-5476 for our chiropractic clinic in Montreal and (450) 527-1239 in Saint-Hilaire.